One of the best fishing rods for sale in the market today, the Shimano FXC Heavy 2 Piece Casting Rod insures both durability and sensitivity making it perfect for all terrain fishing. Although choices can be confusing, there are particular brands that stand out when it comes to fishing rod industry and one of these is Shimano.
Product Features: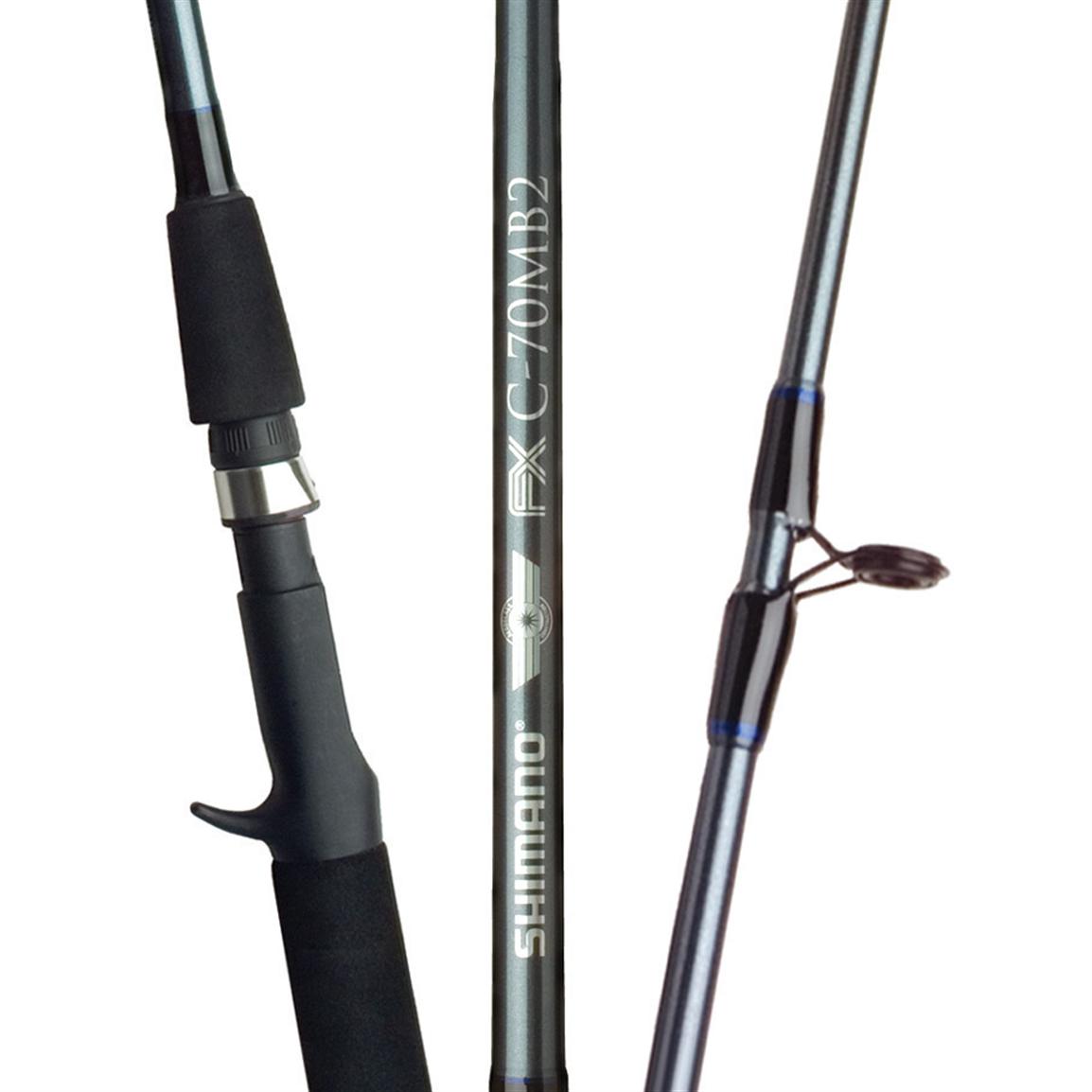 Shimano's FX series of casting rods feature aeroglass blank construction that uses a combination of advanced glass fibers. This material is strong and capable of lugging heavy fish with ease. With medium heavy power and fast action, this rod is both sensitive and highly durable.
The Shimano FX also features reinforced aluminum oxide guides that allow for flawlessly smooth line flow and retrieve. Needless to say these reinforced aluminum oxide guides are also resistant to salt water to corrosion and blunt force.
The Shimano FXC also makes ergonomic considerations by providing anglers with comfortable EVA handle grips. These grips help prevent injury and fatigue that result from prolonged fishing trips. Furthermore the EVA material is highly durable as it resists water erosion as well as damage that is caused by frequent changes in temperature.
With sturdy solid lock reel seats, anglers can rest assured that their reels will stay locked in place in the midst of battling fish.
If you have concerns about quality, Shimano FXC Heavy 2 Pc Casting Rod will take all your worries away. The reason behind it is that this product undergoes a sophisticated manufacturing process and tested several times to ensure that it would pass the company's quality standards. Thus, if you want a quality made product and great value for the price, the Shimano FXC Heavy 2 Pc Casting Rod should be among your first choices.
Pros
• Shimano FXC Heavy 2 Pc Casting Rod takes pride from having a durable aeroglass construction rod black.
• It also features reinforced aluminum oxide guides and solid locking graphite reel seat.
• If you have grip issues, you can be assured that this rod will not give you any problem as it comes with comfortable EVA handles.
• Its graphite reel seat is also exceptional.
• When it comes to cost, it is definitely a great investment because its price is definitely affordable.
Cons
• The sensitivity of this rod can lead to missed hooksets
Shimano FXC Heavy 2 Piece Casting Rod
Shimano FXC Heavy 2 Pc Casting Rod is one of the best options if you are hunting for a quality fishing rod. With state of the art features, this rod is designed by one of the best companies in the industry. With reinforced stainless steel guides, aeroglass blank construction and graphite solid lock reel seats, the Shimano FXC provides the perfect features for an optimal fishing experience.